InfoZip
Info-Zip
Click here to download Info-Zip.
| | |
| --- | --- |
|   | Software AG is providing this link to you only as a convenience, and the inclusion of any link does not imply endorsement by Software AG of the site. The linked site is not under the control of Software AG and Software AG is not responsible for the contents of any linked site or any link contained in a linked site. The company which the link refers to is a separate legal entity. Therefore, Software AG is not liable and does not make any warranties of any kind regarding the products of this company. You may need to enter into separate license agreement with this company. |
To add files to an archive with Info-Zip you have to enter the following command at the DOS prompt:

  zip <Destination File> <Source File>

Please call the destination file (Zip-File) R followed by your Request-Number. For example R123456. The extension .zip will be added automatically.
In the example below all files with extension .txt in the current directory will be added to the Zip-Archive R123456.zip: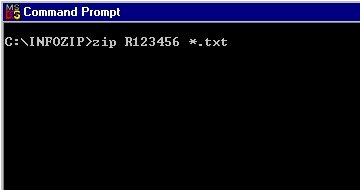 All files added to the archive will be displayed on the screen: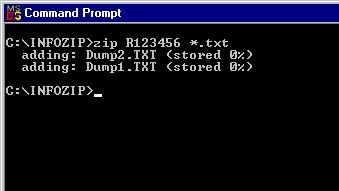 You will find a file named R123456.zip in the current directory.

If you want to add another file to an existing Zip-Archieve use the option -g (grow!). In the example below a file named info.txt is added to the archive R123456.zip.

   zip -g R123456 info.txt

You have countless options you can use with Info-Zip. If you want to know more about it please refer to the Info-Zip MANUAL file.